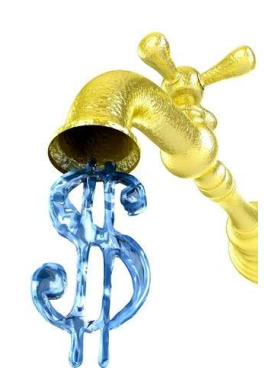 You'll hear me talking about numbers a lot, I guess I can't help it, being an Accountant and Financial Planner. In my article "Net Profit is King" I talked about the importance of setting healthy profit margins for your business.
The other, an equally huge cog in your business wheel is, of course, cash flow. You need money coming in at the right time, at a steady pace, without fail, as easy as possible, with as little follow up as needed… to grease the wheels of your business.
For that to happen you need effective systems and processes to make sure that you receive the money you are due from your clients in time. That includes bookkeeping and invoicing systems with a high degree of mobility and flexibility, especially for tradies who are out and about most of the time.
It also includes training your staff in the use of these systems. More importantly though, there are some great cash flow strategies I know, which I want to share with you here. Implementing just a few of these strategies could help you make a big difference in a short amount of time, and turn on that money tap for your businesses. After all, it's no use working from dusk till dawn and deliver a lot of jobs and services, and then have to wait weeks before you receive payment.
Invoice weekly and review your cash position at least weekly
Nothing works better than setting up routines. If you invoice at the beginning or the end of each week is not so much the point. The most important thing is that you set up certain routines, and stick to them. Make this task a high priority, put it in your diary or set yourself a reminder. It's so critical that this occurs regularly in order to keep the money flowing.
Issue invoices for progress payments more frequently
Tradies have big and small projects. With the larger jobs that can go over a few weeks, or sometimes a couple of months, it is a good idea to spread the load. This will not only be good for your own business cash flow, but also for your client who can pay you in smaller chunks that might be more manageable for them. So at the time of negotiating the job terms, let your customer know your proposed progress payment schedule, so that they're not unduly surprised when the first invoice comes in before the job is finished.
Encourage your customers to pay using online technology
It's so easy these days to make online transactions and many people are taking advantage of this convenient way of banking. Make use of the trend and encourage your customers to pay you by credit card, get an authority to debit their bank account, or ask for a direct transfer into your business account using online banking. Bringing more and more customers in line with this strategy will avoid lengthy delays for cheque processing and clearances.
Introduce 1 to 2% discount for early invoice payments.
The reward principle works in every area of life and business. If you knew how much it costs your business in time and resources to chase up late payments, you would understand immediately that a small discount on early payments is an absolutely cash positive investment.
Send multiple invoices to non-payers
You'll always have some customers who may be in a difficult situation to pay your bill. It doesn't necessarily mean they are not willing to pay. However, following up on outstanding invoices is as important as the way you do it. Your customers need to be reminded at appropriate times that you are still waiting for your payment, and you need to do this systematically.
Continue to send invoices with increasingly demanding tone at 15, 30, 45 days as part of your Debt Collection System, and engage a professional debt collector, if you have to. I have many more cash flow strategies to share with you, but I can't fit them all into this article.
The good news is that you can download them for free at our website. Visit and download our FREE eBook "21 Cash Flow Strategies to Boost Your Business".
---
Please Note: Many of the comments in this article are general in nature and anyone intending to apply the information to practical circumstances should seek professional advice to independently verify their interpretation and the information's applicability to their particular circumstances. Copyright © 2017 Robert Bauman.