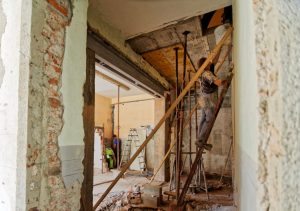 When the average consumer thinks about building works they often imagine cranes on big commercial building sites in the city, where a new highrise grows from a huge hole in the ground with trucks ferrying steel and concrete to and from the site.
The other side of the construction industry is of course the residential and smaller commercial building market. As you know, both the big players in construction and the small one-man tradie business are governed by regulations from the Queensland Building and Construction Commission (QBCC).
The bigger players probably have a bit more onus on them with regards to meeting the Minimum Financial Requirements (MFRs), as we've highlighted in our article How to Make Sure You Don't Lose Your QBCC Licence – Part 1 recently. If you have any doubts at all whether your business is QBCC compliant, when it comes to Minimum Financial Reporting requirements, contact us for a FREE QBCC Compliance Check.
However, other compliance issues that every QBCC licence holder is faced with are often not well understood, especially in the residential building sector where small builder and tradie companies often operate.
For example, for renovations, extensions or house repairs, the QBCC recommends to use a particular contract for works that are valued between $3,301 – $19,999. It is recommended for minor renovations, extensions, improvements and routine repairs of a home (including a house, duplex or unit), or associated work (e.g. landscaping, construction of a retaining wall, pool or spa, driveway, fencing, etc.)
The QBCC Level 1 Renovation, Extension and Repair Contract is available for download from the QBCC website if you know where to find it. We've included it here for you to download. The obvious upside to using a contract is that it will protect your payment rights and the risk of non-payment, disputes and conflict.
Different requirements apply to contracts that are made directly with homeowners for domestic building work. If you don't put a contract in writing, or you enter into a contract that doesn't contain the requirements stated in the QBCC Act, you commit an offence. The QBCC may prosecute or even take disciplinary action and you could accrue demerit points.
From an accounting perspective, playing by the book in the construction industry when you hold a QBCC licence is critically important. If you don't and your licence ends end up being suspended by the QBCC, it will not only hold up any jobs you've got on, it will also mean a big drop in cash flow, hence the risk to your business. While it might feel like a hassle to have to do a lot of paperwork, imagine what the alternative could be – no business at all.
Free Reports Reveal
How To Stay One Step Ahead of Your Competition and If You Have Chosen the Right Business Structure, plus more…
Please Note: Many of the comments in this article are general in nature and anyone intending to apply the information to practical circumstances should seek professional advice to independently verify their interpretation and the information's applicability to their particular circumstances.