Have you been flat out lately and cursed all the non-core business activities that you need to keep up with?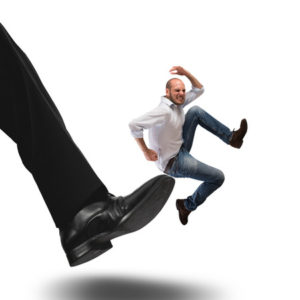 Wouldn't you like to give the boot to all those activities and just be done with it?
I talk to many tradies and business owners and the one thing that keeps coming up is: the dreaded paperwork!
All the things you need to do to satisfy the taxman, to keep your books in order, to lodge your BAS or PAYG on time, to have sound payroll systems, the list goes on. Generally, anything that's part of the engine room of a business is what people tell me they like the least.
Frankly, I don't blame them. I know most business owners haven't gone into business to spend hours doing stuff they don't like doing, or may not even be good at. They opened up a business because they are particularly good at their trade or enjoy delivering quality services in their special field of expertise, and they wanted to be their own boss.
Many people have also told me that they would rather go fishing or spend more time with their families, instead of sitting up till late and working through the paperwork. They also tell me that at times, they just let it slide and have a lot of catching up to do.
Right away, I am concerned for them, because I know from experience what can happen if you let the financial side of things slide. Once you're on your back foot, it's doubly hard to get everything back into order. You know you've got a problem when you want to enter a financial transaction from a docket where the print has faded and you can hardly see the dollar amount, let alone the date of purchase.
Another thing people tell me is that they find it hard when they have a bookkeeper and an accountant who don't know each other. Just the other day, someone told me how they weren't sure whether to contact their bookkeeper or their accountant to get answers to a particular question, all the while fearing that they might incur costs they don't need, and maybe even from both. I understand that people who'd rather do an excellent paint job for their customer don't have the passion to crunch their business numbers.
If you find yourself in that situation, the best advice I can give you is to build a good relationship with a bookkeeper and an accountant, and ask them for help to set up the right systems and tools so that your paperwork becomes a breeze. You wouldn't use a tape measure to drill a hole. So it makes sense to get the right help and use the right tools for your bookkeeping and accounting.
If you don't get your financial business sorted you could be throwing money down the drain. Systematising your work processes in the 'engine room' will ultimately eliminate all the B.S., because once it's done, you don't need to worry about it anymore, and you can be confident that your business is not at risk. Let's face it, the stuff you know is waiting to be done can become a mountain to climb – in your head – and that's when it will suck energy from you that you need to stay on top of your game.
Eliminate the B.S. in your business and your mates will be asking… "How do you have time to go fishing on the weekend!?"
Tradies Advantage, a service that combines bookkeeping, accounting and financial planning all under one roof. Visit our website at www.tradiesadvantage.com.au and grab your copy of the "Tradies Guide to Paying Less Tax". Copyright © 2016 Robert Bauman.