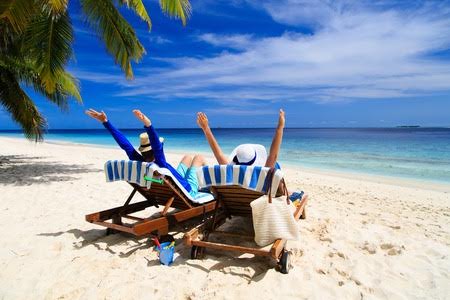 Have you ever asked yourself: If you went away for a couple of months on holidays, or (heaven forbid) had an accident involving weeks in hospital, what would happen to your business?
I'm sure you've had situations in your life where you've suffered a minor injury and had to somehow manage to continue to deliver to your clients. You probably would have asked someone to help you get through this time, but you were still holding the reins of your business, because only YOU knew how things were done.
I know of a gardener who was a sole operator in Brisbane. He suffered a bad leg fracture and his business immediately came to a screeching halt. It was immediately evident that it would take months before he was back on his feet, and that meant the demise of his business. He had to call all clients and let them know that he could no longer do their gardening work, and that they needed to look for a replacement. There was no backup, no transfer of clients to another colleague, and as a result, there was not even the option to try and sell the business as a going concern… it no longer was one.
So what can you do to ensure that you still have a business to come back to from a period of absence? The above example demonstrates that major events do happen to business owners (though most of us just think they will never happen to us), and it's wise to think about your contingency plans well before an emergency. Better still, make your business holiday proof!
My simple answer to this question is: you need to have systems and processes in place, so that the business can almost run itself without you being there. Preparing a business to weather unexpected events or to allow you to go on an extended holiday will give you so much more freedom and peace of mind, that it's well worth doing. When you've got staff then you must also invest the time to train your staff in the processes and procedures you are setting up.
Holiday Proof Your Business
There's nothing like talking these concepts through with someone to really understand how you can make your business 'holiday proof'.
Book your 30 minutes, obligation FREE chat with Robert for peace of mind that you're covered.
Here are my top three recommendations for systems and processes that will keep your business ticking along while you're away:
Use the right Financial Systems
If you are using bookkeeping and accounting systems that don't allow you to look at your financial data from anywhere, and I mean anywhere in the world really, then you will always be tied to your business location.
You can structure your financial business administration seamlessly by using cloud-based bookkeeping software to collect money from clients, reconcile your bank statements, track your spending and pay money to your providers. You can do this very easily and "on the go" from anywhere you can connect to the internet.
XERO, MYOB, Sasus, Reckon and Quickbooks are just some examples of bookkeeping programs that can even provide integration with your business bank accounts in real-time. The major advantage of using such technology is that it will avoid double handling of your administration tasks. You enter a transaction online and your business figures will update throughout, so you can see the net figures immediately, and the program does the rest for you. When your staff can manage these tasks in your absence using such systems, you can still keep an eye on how your business is performing from where ever your are at the time.
The system alone, however, is not the silver bullet. In addition to training your staff in the use of the system, you'll also want to develop task processes you want your staff to follow. Document them in 'desktop manuals' that describe which actions to take in particular situations, eg how to manage your debtors when invoices haven't been paid, what reports to run at the end of the week or month, how to pay your own staff and contractors and how to pay your own supplier bills.
Start using Job Management Systems
There are also plenty of new programs that you can use for managing jobs, projects, purchase orders, timesheets, invoicing, scheduling, inventory, assets, client communications and more.
Quoting, scheduling and invoicing has never been this easy and are often seamlessly integrated with cloud based bookkeeping programs. The advantages include real time sharing of job information from field workers with your office, eliminating double entry and time spent completing job sheets after the job is done. It saves time for both the field and office worker, increases your profitability and makes for happy customers who get a superior service. Examples of this type of programs are GeeOP, i-man (or AroFlo), Tradify, Freshbooks, and Invoice2Go, just to name a few.
These job management systems will allow you to keep an eye on what's going on and continue to give your staff guidance from a remote location.
Document Sales Processes and Follow up
When you've got your business running smoothly, your marketing plan is bringing in leads and you have established an edge over your competition, you'll continue to receive enquiries from potential customers while you are away… and now you want your staff to follow up enquiries and prepare a quote in your absence. For you to have confidence that they tick all the boxes, it's best to document what you do from the point of receiving an enquiry to closing the sale, and the subsequent customer care or nurturing processes.
An integral part of having a sales funnel is a Customer Relationship Management (CRM) system.
Such systems allow you to store unique data about the contact points with your customers, ie each conversation, what it was about, what the next step is etc. Most of the CRMs on the market these days are also cloud-based systems, so you could – technically speaking – follow what's happening with client X from the beach in Hawaii.
If this sounds a bit daunting, remember that your accountant can help and guide you in many of these areas. There's nothing like an informal chat to give you further input into your thinking, and how making your business 'holiday proof' could work for you.
Holiday Proof Your Business
There's nothing like talking these concepts through with someone to really understand how you can make your business 'holiday proof'.
Book your 30 minutes, obligation FREE chat with Robert for peace of mind that you're covered.
Please Note: Many of the comments in this article are general in nature and anyone intending to apply the information to practical circumstances should seek professional advice to independently verify their interpretation and the information's applicability to their particular circumstances. Copyright © 2015 Robert Bauman.